Start your own Facebook fundraiser for VGIF
One of the easiest and most efficient ways you can support the work of VGIF is by starting your own Facebook fundraiser.
Facebook makes it easy for users to raise money and spread awareness to their friends, family and colleagues.
Here is a step-by-step guide to get you started!
STEP 2:
Click "Raise Money"
STEP 3:
Click "Nonprofit" and search for VGIF
STEP 4:
Select VGIF and click "Next"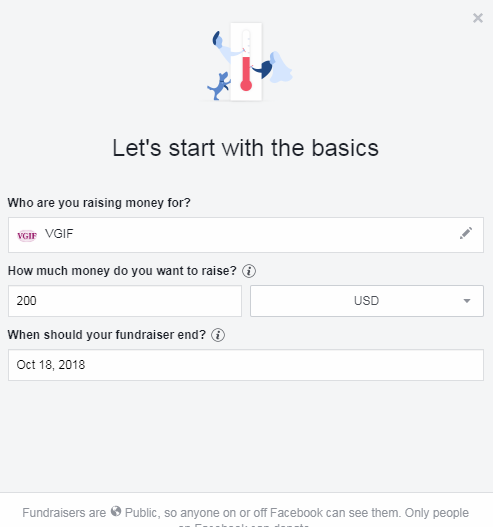 STEP 5:
Set a goal for your fundraiser and an end date
STEP 6:
Name your fundraiser. You can also explain, in your own words, why VGIF's mission is important to you
Now you are ready to share your fundraiser with your personal network!
Some helpful tips:
Make sure to share your fundraiser more than once! We suggest creating a post daily, or every other day, during the "fundraising period".

Add a personal touch to your posts - help your friends, family, colleagues and connections understand why VGIF's work is important to you, and why they should care, too.

Incorporate VGIF's photos and personal stories of grantee partners, hint: we have a lot to choose from on Instagram, Facebook and Twitter.

Set a fundraising goal that is meaningful to you.

Remember to thank everyone who makes a contribution!